From Vision to Viable
11/06/2023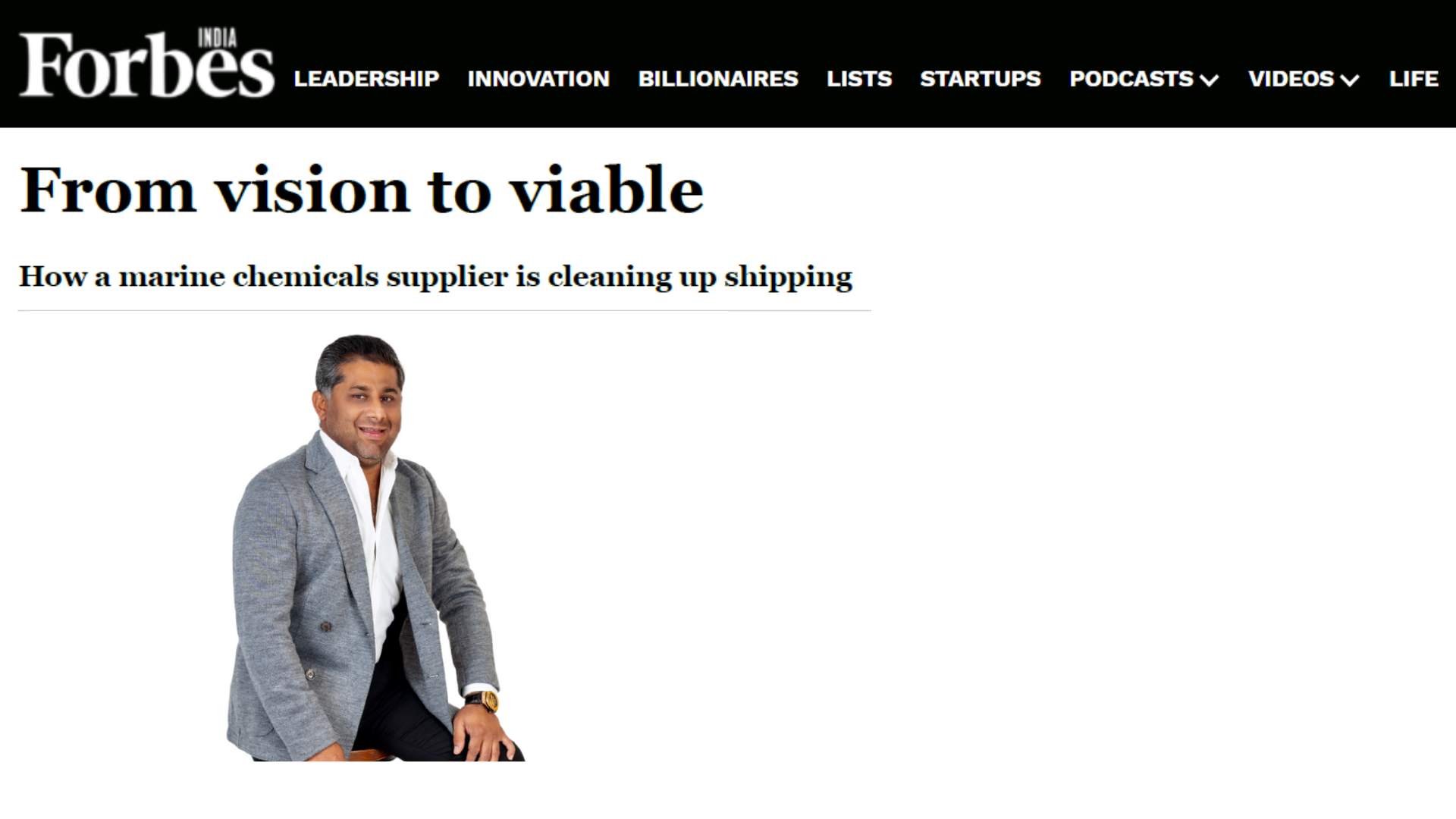 As published in Forbes India, 30 October 2023
https://www.forbesindia.com/article/brand-connect/from-vision-to-viable/89269/1
The maritime industry is at the cusp of an unprecedented energy transition as ship operators look for ways to decarbonize rapidly through energy efficiency, optimization and exhaust treatment. Securing a reliable supply of specialized marine chemicals for use in marine scrubbers, Selective Catalytic Reduction (SCR) systems, ballast water treatment systems and for the cleaning of cargo holds and tanks is the key to achieving carbon neutrality targets as well as profitability.
TECO Chemicals has been a steady provider of just that for close to thirty years, says the company's managing partner and executive board member Gaurav Saini. "Ship operators benefit from smart processes, efficient operation and maintenance services. As these marine vessels carry passengers and cargo throughout the world especially in environmentally sensitive areas, they produce exhaust emissions that have a damaging impact on fragile ecosystems. Finding ways to reduce emissions and make ships greener is therefore an important factor for the future of the marine sector.
Their portfolio of emission control marine chemicals complies with tough international regulations to stay ahead of ever stricter legislation as they emerge, while ensuring not to sacrifice ship engine performance and propulsion efficiency with solutions including Marine Urea 40% Solution and Caustic Soda 50% Solution to neutralize nitrogen and sulphur oxide emissions respectively.
Beginning as a Norwegian company in 1994, its very first steps were a foray into the chemical tanker market from Singapore and there has been no turning back to expansion plans since. Mr Saini shares that whenever a cargo change occurs, vessel tanks have to be cleaned to wall wash standards and TECO Chemicals is one of the leading suppliers in the world for these internationally certified chemicals for this particular process. Supplementing the supply is the priceless element of guidance and advice to shipowners, charterers and operators on how to optimise these chemicals to clean their ship.
Mr Saini's remarkable journey with TECO Chemicals began with humble origins. As a middle-class boy growing up in a New Delhi suburb, he harboured dreams of making a significant impact in the world of business. Armed with a post-graduate qualification in Business Administration, he started from the ground up, working diligently and absorbing knowledge at every opportunity amassing global exposure with successful stints in Europe, Asia-Pacific, Africa and the Middle East. Through dedication, relentless hard work, and a thirst for learning, he arduously and steadily climbed the corporate ladder. This rising star displayed an unwavering commitment to excellence and a knack for solving complex problems. Along the way, he seized opportunities, took calculated risks, and built a network of mentors and supporters who recognized his potential. Over the years, he honed his skills, demonstrating a deep understanding of the industry and an innovative vision for the future, culminating in an appointment as Managing Partner possessing close to 2 decades of management and commercial experience in the Maritime, FMCG and B2B industries.
Mr Saini then picked up the mantle for the company to evolve into a key solution provider, gradually progressing beyond the role of a traditional supplier since his tenure began in 2015. Starting in a pure sales function to head the global sales team and leading the sales and marketing division, he has been instrumental in steering the organization to take its place today as one of the most profitable and prominent marine chemical companies within the maritime industry in its segment. He completely transformed the company's sales figures by more than 500% to become a multi-million dollar global entity in the last 8 years. While backed by reputational excellence and years of service, he propelled TECO Chemicals from a relatively unknown entity with less than 10 steady clients, to commanding a presence on the world stage in 2023. He has cemented more than 150 partnerships and alliances with many of the biggest ship owners globally for commercial vessels as well as cruise ships to supply IMO 2020 compliant marine chemicals which can reduce turnaround time, costs and environmental impact.
Under his leadership, TECO Chemicals espouses a philosophy centering on technical proficiency, an exceptional global distribution network and bespoke service. This is a vital nuance that has led successful marine transformations and growing trust at every touchpoint. Mr Saini has revolutionized their approach, giving it an edge over the market, with passion guiding each interaction to shape the future of shipping. His mantra: innovating with purpose to solve real problems and to harness the flow of critical knowledge within the industry as an inspiring thought leader.
What sets him apart is viewing any challenge as an opportunity. When the chemical tanker market was at a point of saturation and IMO 2020 sulphur regulations kicked in, Mr Saini saw this as a huge prospect to expand the business. The regulation meant that ships equipped with exhaust gas cleaning systems would immediately need a reliable supply of Caustic Soda 50% solution. But with his deep understanding of the trade, he knew that it was time to go a step further than just procuring the chemicals in bulk quantities and storing them at ports to supply to shipowners and charterers. "I wanted to differentiate TECO Chemicals from the typical mould. We do not just sell chemicals, we are able to provide sustainable solution packages including full turnkey services to owners or charterers that are buying caustic soda for their scrubber systems to reduce emissions. We send people on board, perform pumping, and have barges in case the ship cannot be supplied alongside."
He made sure that besides providing caustic soda, TECO Chemicals adopted a one-stop-shop approach for the 40% aqueous urea solution (AUS) used in selective catalytic converters (SCRs) to reduce nitrogen oxide emissions, making supply available via barge, tanker truck or IBC. He goes on to explain that some port facilities and terminals do not allow a barge or tanker lorry to come alongside a ship to supply urea. This means the urea can only be supplied by IBC. This is problematic and expensive for shipowners, not to mention that prices of raw materials have been escalating by 60% or more due to the volatile political situation in Europe.
Thus arose the need to formulate a cost-effective solution for ship-owners and through a partnership with DongHwa Entec of Korea, TECO Chemicals developed the TECO Urea Generator, which enables ships to blend AUS 40% solution onboard. "We decided the best solution was to enable vessel operators to blend the urea onboard," he says. "The generator produces urea solution from powder trills and mixes it in tanks and delivers it directly to either the engine system or to the SCR storage system for storage and use. This singular device presents several advantages. This will save them money on logistics, barging costs, onboard storage space and manpower. The urea generator is also a more sustainable solution in the long run."
It is this single-minded emphasis on prioritizing innovation and problem-solving that has enabled Mr Saini to deliver results – having been personally responsible for generating the highest revenue in the last 25 years for TECO between 2021 and 2023 even during the pandemic when many companies were in the red, delivering one of the best EBITA figures since its inception, under his stewardship.
Currently as Managing Partner, he leads a team of 17 across Singapore, Norway, Greece, India, the Middle East and the United States and has taken on increased responsibilities including business development in new and existing highly competitive markets by introducing and implementing innovative business and revenue streams. He has placed a greater focus on analyzing opportunities for growth in market segments and regions to drive profitability with an entrepreneurial mindset to increase revenue for the Singaporean outpost, keeping a priority on attracting buyers for products and services supplied by Singapore-based companies in order to continue boosting the local economy.
As to what the future looks like for the marine industry, he says passionately that "We are supercharging towards a vision of creating a bolder and greater tomorrow. Having sharpened our emphasis on sustainability, we continue to create value and operate efficiently through ebbs and flows. With a product range that keeps evolving to match industry requirements, we invite industry players to join hands with us to strengthen our strategic ecosystem relationships and leverage industry expertise for the pursuit of excellence."
He is working on an upcoming pipeline which demonstrates a commitment to invest in upcoming solutions which challenges the status quo by procuring more efficient, non-carbonate sources of alkalinity, both cost-effective and safe substitutes for caustic soda such as Magnesium Hydroxide Slurry and Soda Ash. With the harnessing of global synergies, TECO Chemicals will be able to accelerate the worldwide supply of these rarely-utilized treatment chemicals for Sulphur neutralization.