DPP TO CPP CONVERSION
05/29/2023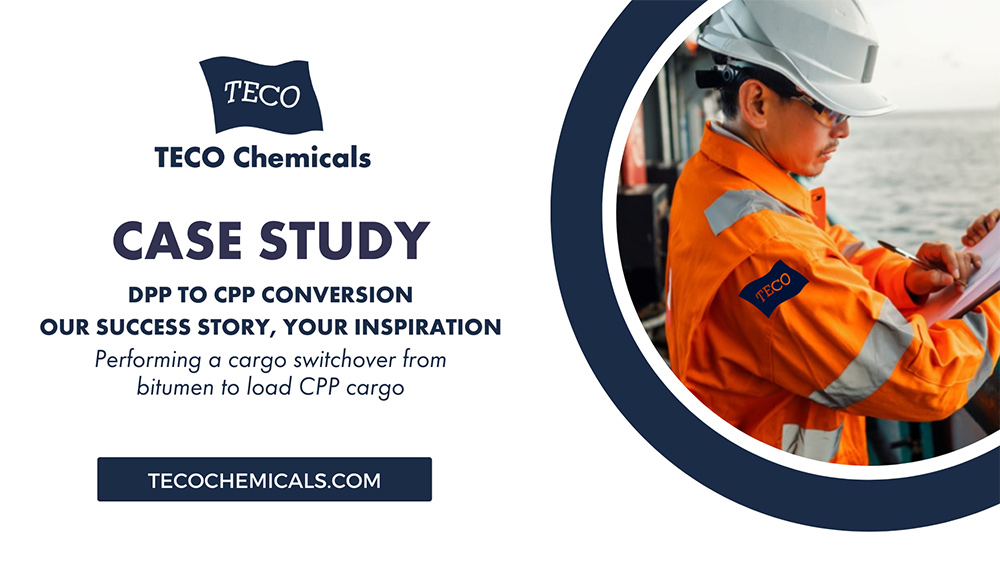 Our Success Story, Your Inspiration
TECO Chemicals operates on the philosophy that no vessel cleaning job is too much of a challenge when approached with meticulous planning and precision, backed by technical aptitude.
Executing the DPP to CPP conversion is one of our key capabilities and we specialize in undertaking notoriously difficult and demanding cargo switchovers including those involving bitumen, a sticky crude oil distillate with significant residual deposits of sludge.
Recently we have completed a conversion onboard a 65,000 DWT oil product tanker vessel in Europe, which was carrying dirty cargoes such as crude oil and bitumen from the last several years. TECO Chemicals came onboard with a shore gang crew to provide demucking services on 12 cargo tanks and 2 slop tanks and to perform remote cleaning with a specialist supercargo onboard. Our trademarked MarClean H60+ and MarClean SC range of chemicals were supplied used to clean the tanks in readiness to load CPP cargo.
THE PROCESS
We worked closely with the vessel's operating staff beforehand to prepare a comprehensive tank cleaning plan which was then fine-tuned with detailed instructions for sequencing of cleaning steps.
The job at-hand was intimidating – the vessel had hardened residues of bitumen on the tank top which were not coming off and heavy de-mucking had to be performed to remove this. With its last 3 cargoes being crude oil, VGO and carbon black, the main challenge was to remove the hardened bitumen residues from the tank top and lower areas of the bulkheads. After de-mucking the tanks were chemically cleaned with Marclean H60+ solution followed by Marclean SC solution. Tanks were then mopped.
The effort and dedication of our team is clearly visible – working hard to enable a result many don't even dare to attempt!
Reach out to us for advice on how we can support you with achieving such transformations for your vessel: chemicals@teco.no